Cyprus is up and coming and the secret is out. The combination of history, natural beauty and culinary delights is a magnet for millions of visitors looking for a slice of sun-fried gold. Ezoria Villas in Cyprus are a surefire to catalyse the feeling of joy and amplify your beach villa holidays in the fair land of Aphrodite. If you are looking into your next holidays in Cyprus, then Ezoria's collection of the best beach villas Cyprus has to offer is the way forward, with its diverse selection of beachfront villas in Cyprus in various locations around the island. 
Best beach villas Cyprus has to offer in Argaka
Villa Ocean Pearl 
With that said, welcome to Villa Ocean Pearl! Nestled in a quiet and secluded area, this magnificent seafront residence offers a tranquil retreat with breathtaking mountain and sea views. Located just a few steps away from the sandy beach of Argaka, it presents a privileged position that immerses you in the beauty of the Mediterranean coastline and the Akamas Peninsula. Step into the ground floor of Villa Ocean Pearl and be greeted by a spacious open-plan living room, dining room, and kitchen area. There you will find two bedrooms, including a queen bedroom fitted with an en-suite bathroom, and a twin bedroom, also with its en-suite facility, and an additional guest toilet. The first floor of the villa showcases a master double bedroom with an en-suite bathroom and a twin bedroom with two large single beds, both offering generous balconies where you can relish the endless sea and sunset views.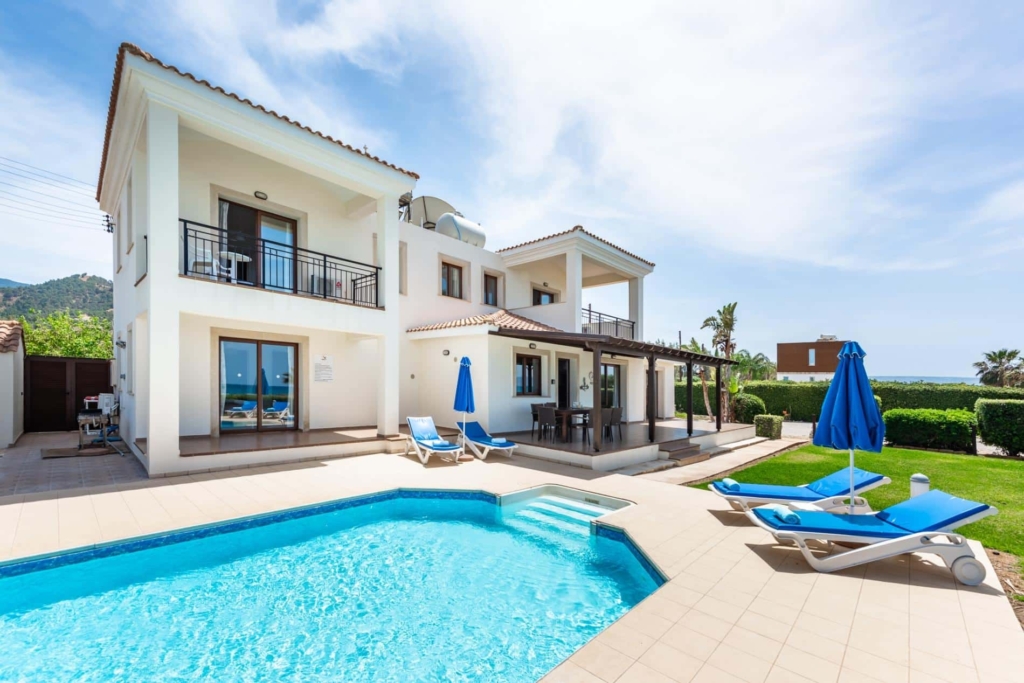 Its outdoor areas are equally enticing. The patio doors and windows invite soul-rich ocean views and provide direct access to a covered patio and garden area with a fabulous swimming pool surrounded by a beautifully maintained lawn garden. Indulge in leisurely sunbathing on comfortable sunbeds, rinse off in the poolside shower, and savour delightful alfresco dining with friends and family using the outside dining table and portable barbecue.
Beyond villa boundaries you have a microcosm of awesome natural beauty to explore, so have at it. The villa's location close to the traditional village of Polis and the Latchi strip on the Northern coast of Paphos ensures a variety of amenities, from traditional bars and pubs to organic beach bars, shops, and mini markets. Explore the magnificent pebble beaches with crystal-clear waters that stretch from Pomos Village to Afrodite's Baths in the Akamas National Park. Take a walk on the nature trails of the Akamas reserve or embark on a boat trip to the mesmerizing blue lagoon. Horse riding in Lysos and go-karting on the outskirts of Polis offer thrilling activities for adventure seekers.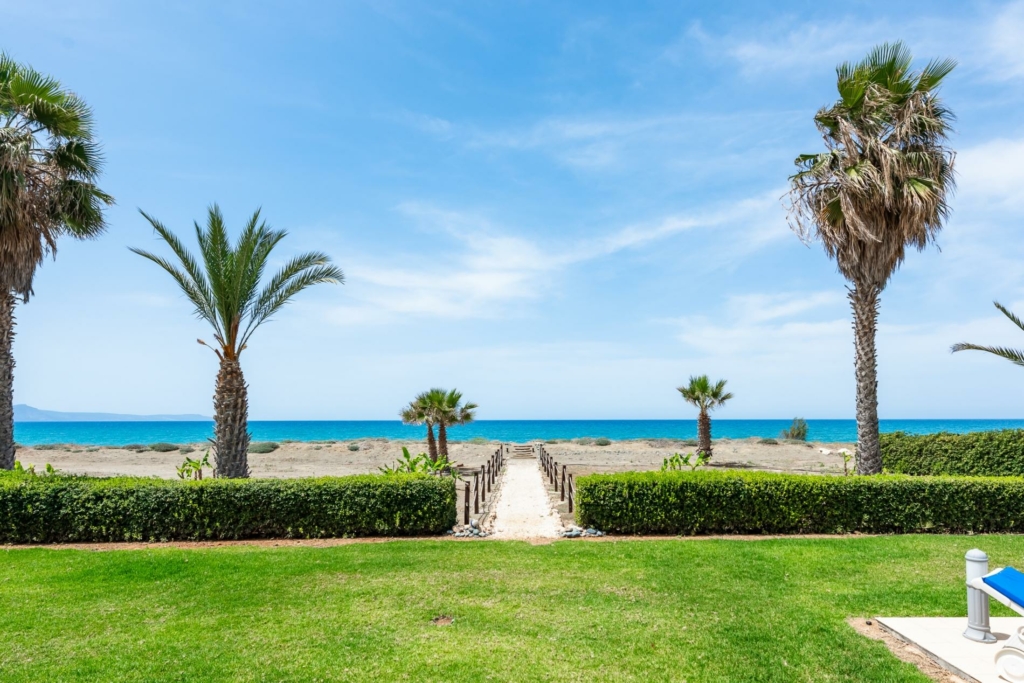 Villa Antara Palace
Situated on a sprawling 10-acre beachfront plot, Villa Antara Palace offers a haven of seclusion amidst elegant gardens and soothing fountains. The villa exudes grandeur from the moment you step inside its 2,400 square meters of palatial space. High ceilings, exquisite artwork, designer mosaics, and hand-woven silk rugs create an aristocratic atmosphere.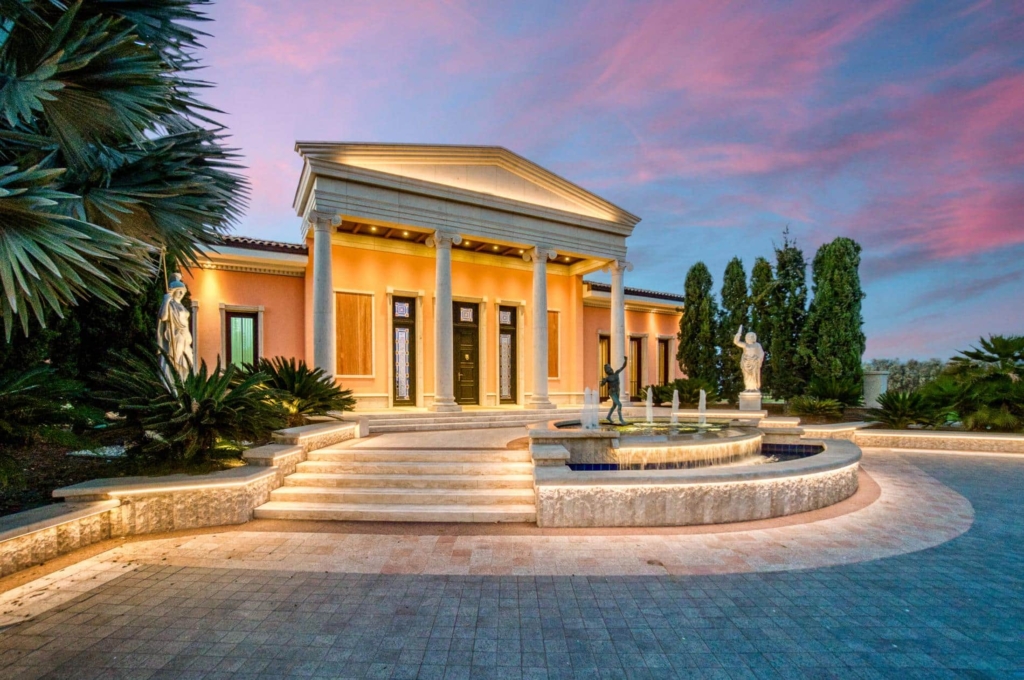 The expansive lounge boasts two comfortable sitting areas, accommodating up to 16 guests, and opens up to a patio offering breathtaking panoramic views of the Mediterranean Sea. The adjacent dining room provides a regal setting for meals, complemented by a well-equipped kitchen that also connects to the front patio.
Adding to the villa's allure is a luxurious indoor heated swimming pool measuring 5 x 12 meters. Adorned with hand-painted walls reminiscent of ancient Greek palaces, this wellness hall offers sweeping sea views and features a fitness room, Jacuzzi, and various spa, sauna, and steam room facilities.
On the ground floor, six spacious Royal Suites await, each with its own unique theme, from the serenity of an Asian-inspired Buddha suite to the opulence of a golden paradise. Floor-to-ceiling windows and private terraces allow guests to immerse themselves in the breathtaking surroundings. Lavish bathrooms adorned with 24-carat gold-leaf painted tiles and ornate designs provide the ultimate relaxation retreat with a dash of opulence.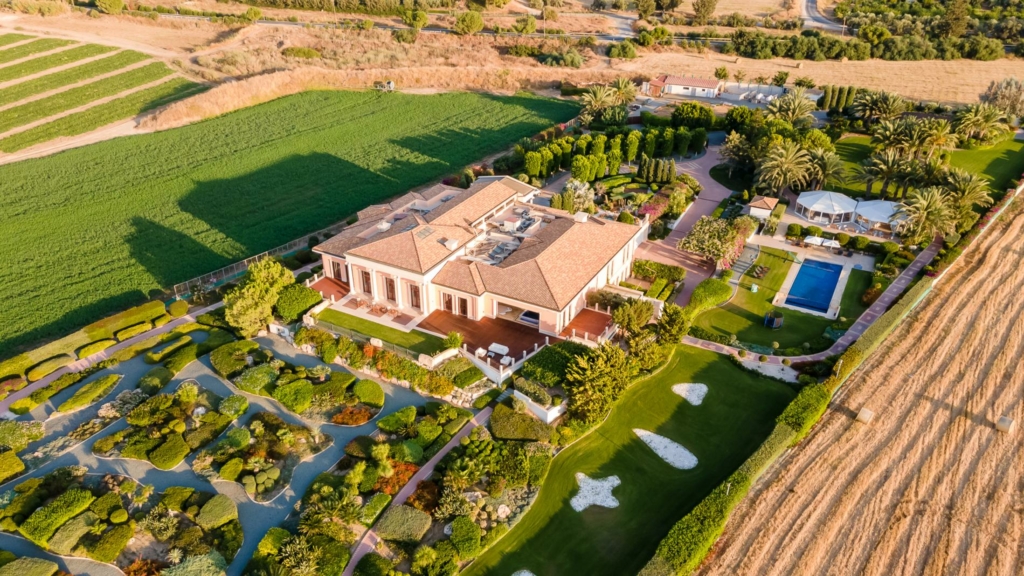 The ground floor also houses additional spa facilities, a beautifully decorated breakfast/dining room serviced by a restaurant-grade kitchen, and a state-of-the-art 3D home theater room, perfect for a movie night experience.
The crown jewel of this magnificent property is the fully furnished banquet garden terrace overlooking the outdoor swimming pool. Impeccably maintained gardens surround this oasis, and direct beach access, exclusive to guests, invites you to bask in the sun on comfortable sunbeds or find your inner peace on the outdoor yoga platform.
Villa Antara Palace offers an exclusive and unforgettable experience where every amenity and service is at your fingertips. Prepare to indulge in the lap of luxury and create memories that will last a lifetime.
Best beach villas Cyprus has to offer in Protaras
Villa Ourania
Escape to the breathtaking beauty of Villa Ourania, located in the Protaras area. This is a remarkably designed beach villa in Cyprus that offers mesmerizing views of the azure waters of Konnos Bay, creating a picturesque backdrop for an unforgettable holiday experience. With its unique and modern interior design that seamlessly blends with the natural environment, Villa Ourania exudes a sense of luxury, tranquillity and exclusivity.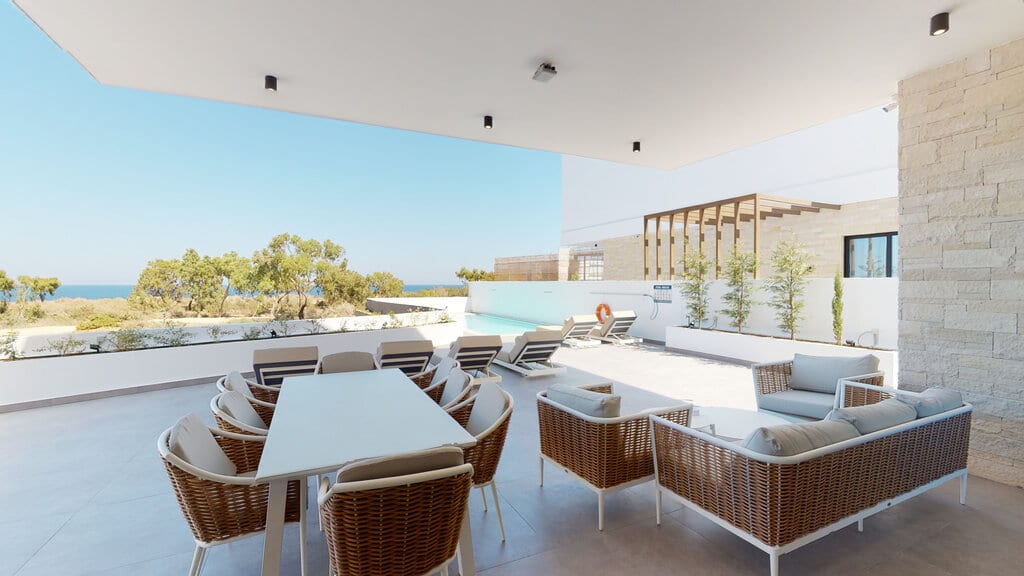 Glide into the villa and be captivated by the private swimming pool, inviting you to take a refreshing dip and soak up the Mediterranean sun. The spacious landscaped garden provides a serene oasis where you can unwind and enjoy the beauty of nature. For an elevated experience, venture to the gorgeous roof garden and revel in panoramic views that will leave you in awe. 
Inside, Villa Ourania boasts exceptional features and amenities that ensure a comfortable and indulgent stay. Whether you're lounging by the pool, exploring the nearby beaches, or simply savouring the serenity of the landscaped garden, this villa offers an unparalleled holiday experience.
Kindly note that this beach villa in Cyprus is designed to accommodate up to 6 people, with rates specified for this capacity. If you are a larger group who wish to book this stunning property, please consult our reservations team for information on extra charges should you wish to accommodate additional guests.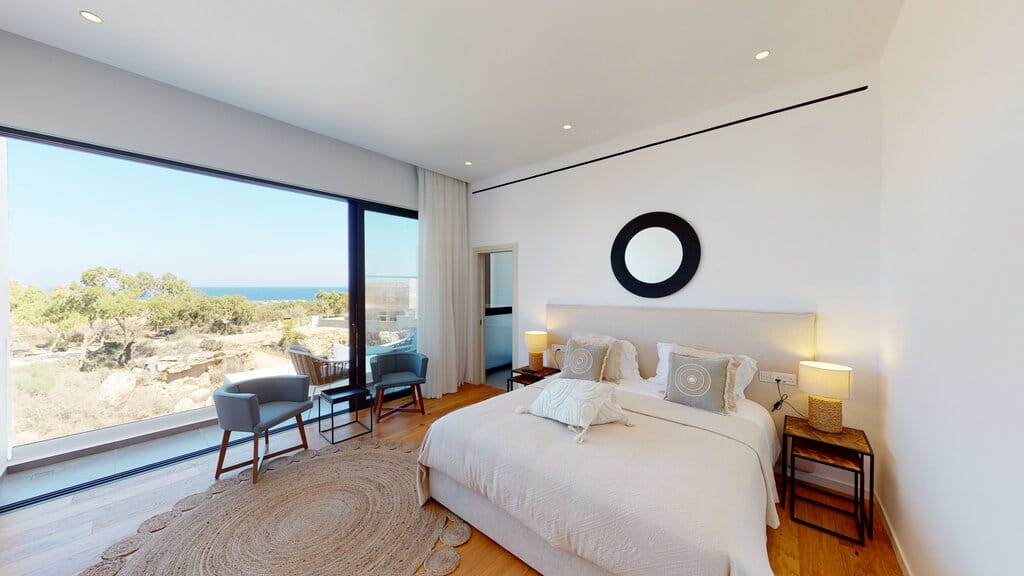 Villa Polymnia
Situated in Protaras, Villa Polymnia offers a mesmerizing view of Konnos Bay, creating a serene backdrop for an unforgettable holiday escape. With its contemporary design and lavish amenities, Villa Polymnia promises an unparalleled experience.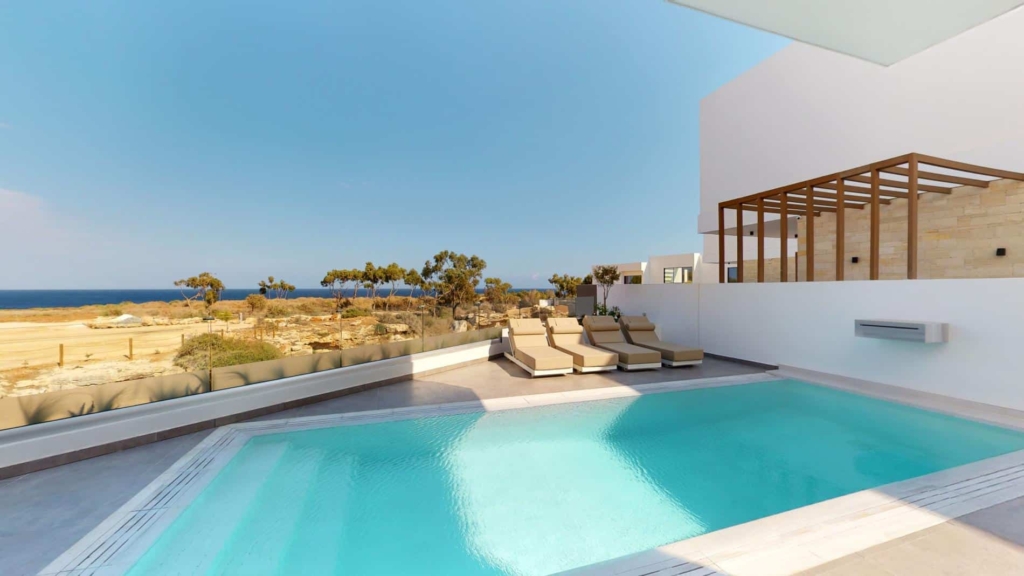 Walk into this magnificent villa and be greeted by the ultimate comfort and convenience. Fully air-conditioned and centrally heated, every aspect of your stay is carefully considered. Equipped with an elevator, accessibility is ensured for all guests. The first-floor bedrooms boast ensuite bathrooms, with some offering captivating sea views. Each room is furnished with TVs, safes, and individual door locks, providing privacy and peace of mind.
Outside, the villa showcases a private pool, a sun deck, and a barbecue grill, creating the perfect setting for relaxation and entertainment. Immerse yourself in the crystal-clear waters of the pool, bask in the Mediterranean sun on the sundeck, or savour a delightful barbecue with loved ones.
Note that Villa Polymnia can house up to 8 people. With its breathtaking location, contemporary amenities, and exquisite design, this villa promises an extraordinary holiday experience that will leave you rejuvenated and enchanted.
Collection of the best beach villas Cyprus has to offer
Unwind in luxury and revel in the idyllic surroundings of Ezoria Villas. Enjoy the majestic natural landscape that surrounds the villas and explore the limits of your adventurous side by discovering new experiences.